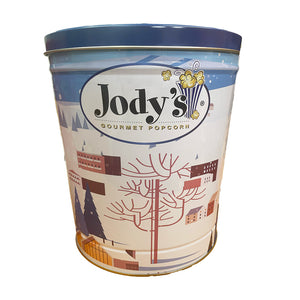 Embrace the spirit of the slopes with our Holiday Popcorn Tin, featuring a vibrant skiing scene that captures the exhilarating essence of winter adventures. Imagine a snowy landscape, where skiers glide down majestic mountains, leaving trails of excitement in their wake. This tin, adorned with this breathtaking scene, brings the thrill of the slopes right to your fingertips.
These 3.5 Gallon Tins come filled with 3 delicious flavors – 10oz of our signature Recipe 53 Caramel Corn, 4oz of our delightful Sea Salt and 4oz of our indulgent Double Cheddar. 
Our premium caramel blend delicately coats the popcorn, creating a wonderful flavor that you'll have to taste to believe. Made with the finest ingredients including REAL vanilla & butter and hand-crafted in small batches by Jody's dedicated Team Members.
White cheddar & sharp cheddar are better together! Double Cheddar is one of our best-selling flavors. Coated in white cheddar & sharp yellow cheese – delicious! This jar is great for parties, snacking, and gifting! 
Our Sea Salt Popcorn is better than the popcorn in the movie theaters! Made with only 3 simple ingredients, our Sea Salt Popcorn is the best guilt-free snack! Vegan friendly, Kosher Certified and Gluten Free. Made with Non-GMO whole grain kernels, our popcorn is hand crafted by Jody's team members in small batches. No preservatives, and no artificial flavors or colors.