SINFULLY ADDICTIVE TASTE
Richly coated with the finest ingredients, popped and hand-crafted in small batches and
packaged fresh and hot. Bursting with rich flavors creating a scrumptious
mouth-watering taste.

Limited Edition Holiday Tins



This section doesn't currently include any content. Add content to this section using the sidebar.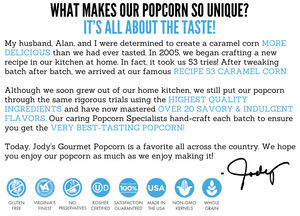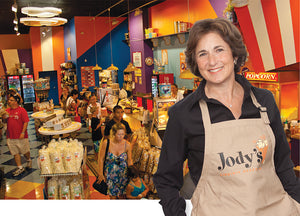 Testimonials
This is gourmet popcorn! It was fresh and tasty! Although hesitant to try the varieties, those were the ones that everyone loved. The jalapeño cheddar turned out to be the most popular. The birthday guy enjoyed the birthday variation!

Jasmine D.
My favorite, I am a Virginia Beach native & have always equated Jody's Popcorn with home. The best popcorn I have had anywhere in the US. Will keep buying!!

Brian L.
Jody is a wonderful person. She gave me and my family a tour around her popcorn factory, and at the end Jody gave my family popcorn. Jody's popcorn is the best popcorn I've ever had, my favorites are Birthday cake, recipe 53 Carmel corn, double cheddar, and cinnamon crunch.

Cooper H.