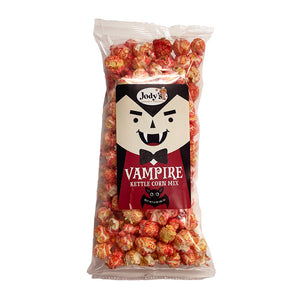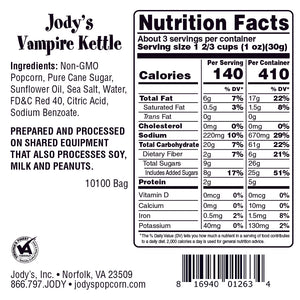 Sink your teeth into a snacking sensation that's a bite above the rest - introducing Vampire Kettle Corn Mix!
Are you ready to embark on a tantalizing taste adventure? We've concocted a popcorn potion that's the perfect fusion of sweet and salty, leaving your taste buds utterly bewitched! It's the snack that's so good, it's spooky!
Whether you're watching a spine-tingling horror flick, hosting a fang-tastic movie night, or just indulging in a little midnight munching, Vampire Kettle Corn Mix is your partner in crime. It's the snack that'll make your taste buds scream with delight!
Ingredients: Non-GMO Popcorn, Pure Cane Sugar, Sunflower Oil, Sea Salt, Water, FD&C Red 40, Citric Acid, Sodium Benzoate.
Gluten-Free | Kosher Certified | Made with Non-GMO Popcorn Kernels | Made in USA