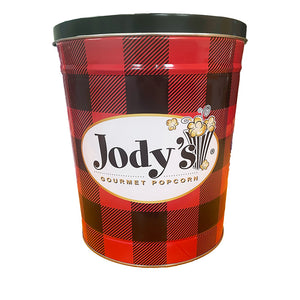 Introducing our Holiday Popcorn Tin in a charming plaid design – a festive delight that combines the warmth of tradition with the joy of indulgence. Wrapped in a cozy plaid pattern that evokes memories of crackling fires and snug blankets, this tin is more than just a container; it's a piece of holiday magic waiting to be opened.
These 3.5 Gallon Tins come filled with 3 delicious flavors – 10oz of our signature Recipe 53 Caramel Corn, 4oz of our delightful Sea Salt and 4oz of our indulgent Double Cheddar.
Our premium caramel blend delicately coats the popcorn, creating a wonderful flavor that you'll have to taste to believe. Made with the finest ingredients including REAL vanilla & butter and hand-crafted in small batches by Jody's dedicated Team Members.
White cheddar & sharp cheddar are better together! Double Cheddar is one of our best-selling flavors. Coated in white cheddar & sharp yellow cheese – delicious! This jar is great for parties, snacking, and gifting!
Our Sea Salt Popcorn is better than the popcorn in the movie theaters! Made with only 3 simple ingredients, our Sea Salt Popcorn is the best guilt-free snack! Vegan friendly, Kosher Certified and Gluten Free. Made with Non-GMO whole grain kernels, our popcorn is hand crafted by Jody's team members in small batches. No preservatives, and no artificial flavors or colors.