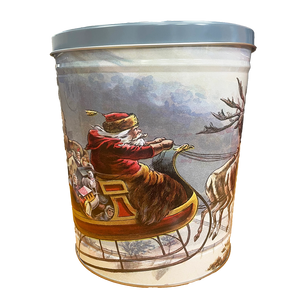 Step into the enchanting world of yesteryears with our Holiday Popcorn Tin adorned in a Vintage Santa design, where the timeless charm of Christmas past meets the delectable indulgence of the present. Picture this: Santa on his sleigh, dashing through the sky, his hearty laughter carried by the winter wind, capturing the very essence of the season. This Vintage Santa Popcorn Tin is not just a container; it's a journey back in time, a nostalgic homage to the magic of childhood holidays. The tin, with its warm, vintage hues, tells a story of holiday cheer and timeless traditions.
This beautiful Holiday Tin is adorned with watercolor pictures that evoke the warmth and charm of a traditional holiday, making it a delightful addition to your festive decorations. It's not just a treat for your taste buds; it's a feast for your eyes and a conversation starter at any holiday gathering.
These 3.5 Gallon Tins come filled with 3 delicious flavors – 10oz of our signature Recipe 53 Caramel Corn, 4oz of our delightful Sea Salt and 4oz of our indulgent Double Cheddar. 
Our premium caramel blend delicately coats the popcorn, creating a wonderful flavor that you'll have to taste to believe. Made with the finest ingredients including REAL vanilla & butter and hand-crafted in small batches by Jody's dedicated Team Members.
White cheddar & sharp cheddar are better together! Double Cheddar is one of our best-selling flavors. Coated in white cheddar & sharp yellow cheese – delicious! This jar is great for parties, snacking, and gifting! 
 Our Sea Salt Popcorn is better than the popcorn in the movie theaters! Made with only 3 simple ingredients, our Sea Salt Popcorn is the best guilt-free snack! Vegan friendly, Kosher Certified and Gluten Free. Made with Non-GMO whole grain kernels, our popcorn is hand crafted by Jody's team members in small batches. No preservatives, and no artificial flavors or colors.